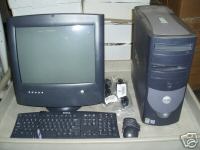 Westchester County has an eBay department and eBay Store pickup in Elmsford. They don't ship, which is a shame, because they would get more money for their items. I have though about offering a service to ship the Westchester County eBay items for people who have paid for them. Shipping plus 20% of price, but it might be more trouble than it's worth.
The PC in the picture above is the PC that I used for several years here at work, which is now listed on eBay. I am quite nostalgic about it and I am almost tempted to buy it. The trouble is that I would have no place to put it and it is, after all, about 5 or 6 years out of date and is about the same age as Erica's PC.
I am getting used to not having a a laptop next to my chair and checking my mail every few minutes at home. I go downstairs every couple of hours because I like to keep on top of the NameAStar correspondence. I also use the DVD Burner in the machine down in the cellar to cut old episodes of House MD, to which I have become addicted. The camera is filling up with cat pictures, but I am going to buy one of those terabyte backup disks before I risk losing any more images in a disk crash. In the mean time, the flash cards hold several hundred images each, so I am OK for a month or so.
I bought a thirty gig drive that I would like to put in the little Panasonic, but there are two types of connectors for these drives and I am not sure which one is right for the pc. I will know when it arrives and I can find time to disassemble the PC. To cover myself, I bought a little external drive case. I can use the drive and case to store files if the drive does not fit in the computer. If it is the wrong kind of drive I'll get another disk – it turns out you can pick them up cheap on ebay, so I am not worried about it. One advantage of buying the case is that I can take the old drive and run recovery software on it and try to get back the archive of my pictures that were lost in the crash. They say if you cover the drive in dry ice, it sometimes will work for a little while (seems far fetched to me). The disk drive and case should arrive this week. When I get a nice rainy Saturday, I can sit down for three or four hours and try to take apart the Chinese puzzle box of a computer.