John asked me if I liked the Simpsons and he said that someone that he trusted told him that the Simpsons movie was the funniest film of all time. I doubt it. It may be funny, but it is not my kind of humor. I don't like physical or dumb-ass humor. I like clever and smart humor. I could think of a hundred comedies that I would rather watch than the Simpsons Movie.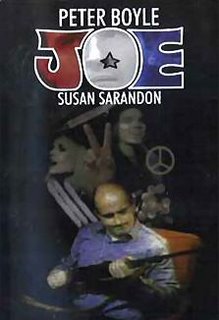 I decided to make a list of my own favorite comedies. I used Google to find a variety of lists on the net and I picked over those. I did not find "The Bride Came C.O.D" on any list, neither did I find Peter Boyle's truly awful and disturbing movie (but still funny) "Joe" on any list. These movies mean something special to me, so I had to include them. This is a personal list. Each movie touches me in some way. The Simpsons Movie will never touch me. Cat Ballou is on the list because it is my mother's favorite comedy. I enjoy it mainly because my mother fell off her seat in the theater the first time that she saw it, she laughed so hard.
Here is the list:
1) Bringing Up Baby (1938)
2) His Girl Friday (1940)
3) The Bride Came C.O.D. (1941)
4) Mr. Blandings Builds His Dream House (1948)
5) Harvey (1950)
6) Arsenic and Old Lace (1944)
7) The Graduate (1967)
8) Joe (1970)
9) Adam's Rib (1949)
10) My Man Godfrey (1936)
11) Cat Ballou (1965)
12) The Producers (1968)
13) Harold and Maude (1972)
14) Born Yesterday (1950)
15) The Trouble With Harry (1955)
16) It's a Gift (1934)
17) She Done Him Wrong (1933)
18) Sleeper (1973)
19) Dinner at Eight (1933)
20) Dr. Strangelove or: How I Learned to Stop Worrying and Love the Bomb (1964)
I had a dozen more good movies on the list and on any given day, the order of these movies would change and other movies could appear in the top 20. The order is only approximate. I will think of others that should be on the list.
I know Bringing Up Baby will always be the greatest comedy of all time. You'll notice that I am not a Marx Brothers or Laurel and Hardy fan. There is only one W.C. Fields and only one Mae West on the list, because although their movies are funny, they are not really good movies. In addition to being funny, a comedy has to have a good, more or less realistic plot and stand alone as a good movie. A movie that is just an excuse for gags is not a good comedy.
There are no comedies after 1973 on the list. Somewhere in the early 1970s, Hollywood lost its sense of humor. I blame cocaine. I wanted to include "Sweet Sweetback's Badass Song", but it really doesn't belong on any list, except the one in my head.
The funniest line in any movie on the list is Bette Davis kissing Jimmy Cagney and then shouting "Mustard!" in the Bride Came C.O.D. This is even funnier than "George, Here George" in Bringing up Baby.