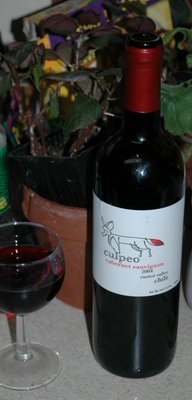 I like a glass of wine with my evening meal. I can't afford expensive California or European wines, so I have become familiar with Australian and South American wines. I think that Chile and Argentina have the world's best wines right now.
Australia and New Zealand are emulating the bland California wines and like the California wineries, they are trying to avoid disturbing anyone rather than producing a good wine. Their wines are better than the California wines in the same price range, but they are shallow in taste and execution. Perfect for American tastes, but not bold enough for me.
South American wineries are producing good classic European type wines. I opened this bottle of Culpeo Cabernet and I immediately smelled the big oaky aroma of an aged French Bordeaux. This reminds me of the Medocs and Bordeauxs that I used to buy for $1.99 in Cooper Square in NYC in 1969 and take home to my squalid flat on Avenue A. I would grill a steak and sip wine and it was a better high than any of the drugs that flowed so freely back then. Good food and fine wine will always be my idea of time well spent.
The Chilean Culpea wine pictured here is available in one Liquor store in New Jersey and this was the last bottle that they had. I can't find it on the internet except on menus for restaurants in England. Ask your liquor store owner to buy a case or two. It comes in Cabernet Sauvignon, Merlot, Syrah, and Sauvignon Blanc. Well worth it at $6.99 a bottle.