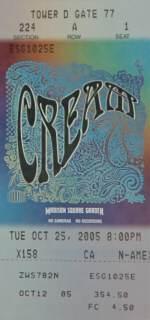 I got my Cream tickets for Madison Square Garden in the mail. Today I listened to Disraeli Gears and Fresh Cream in the truck, when I went to get gas and buy groceries.
The package includes parking on 23rd street.
Justine paid $354.50 each for the tickets. I think this is an outrage. She used her American Express credits to buy them so it winds up costing us $50 each. I am going to discuss it with the poker boys. I'd like to take her out to dinner at least.