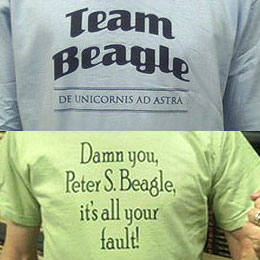 Peter S. Beagle's The Last Unicorn (Deluxe Edition) is nearly sold out. This has been voted one of the top 5 fantasy books of all time.
These last few copies are still available for $20 and are signed by Peter. The last 50 copies will be signed and include a handwritten story by Peter and will cost $75.
These would make a good addition to your SF collection and would only go up in value.
As much as I hate Unicorn stories, Peter S. Beagle's book is the exception that proves the rule.
The T-Shirts are cool, too.