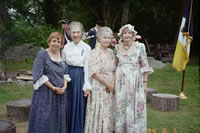 Mom took a bunch of pictures and checked off the "CD" box when she had them developed. This link is to an album of Mom's pictures. There are DAR ladies, friends, and miscellaneous people who showed up at Grace Thrift Shop Where Mom works. There's a couple of odd pictures including one of Erica and me sitting on the couch at the old homestead.
The picture above is a few DAR girls (Mom is on the right) wearing home made revolutionary war cosutumes at the Flag Day ceremony at the Stony Point Battle Field. The battle of Stony Point is an important local piece of history that is nearly unknown anywhere else.
Please click on the link to view the pics. I am sorry, but I don't know anyone's name.