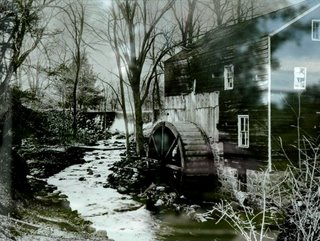 This is a poster of the Polhemus Mill that was put up down at the West Nyack Post office. The Polhemus family live on Germonds Road, West Nyack, a few hundred feet from my house. They had a dam on the Germonds Creek. I am a direct descendent from Theosophus Polhemus who came the New World in the middle 1600s. The Mill was owned by my family until a a hundred years or so ago. I didn't know this when I moved into the house.
The first Polhemus's came on the St. Catarina, known as the Jewish Mayflower from Brazil. Theosophus was a calvanist minister and he and his wife were kicked out of Brazil when the colony got rid of all the non-catholics.
An interesting thing is that the picture was made by Lewis Stockmeyer, who lived across the street from my mother when she was a little girl. I remember Mr. Stockmeyer showing me his pictures when I was a little boy and we went to visit.