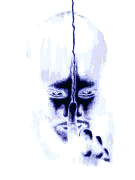 Chris Bartholomew has brought out the first edition of Static Movement Online. This is much more difficult that you might imagine and Chris deserves a few weeks of deep sleep to recover. I will raise a glass of champagne this evening and toast her.
I have a couple of stories in the zine, as does Arthur and a bunch of the AstoundingTales crowd. It has a few of the AnotheRealm.com people so in the ezine taxonomy, Static Movement falls under the classification of Another Realm type zines.
I did the flash banner at the top. I found a swf file from a free templates place and managed to hack it. I think one of my new years resolutions will be to become a flash guru. I did the image at left by taking an image that Chris already had and applying a few filters in Paint Shop Pro, not really creative, but still pretty good for the site. I did the home page template, but Chris has recreated it in a variety of modes and styles throughout the site so not much of the original remains. The mistake in the page titles is mine and she never caught it. Perfect is the enemy of good enough.