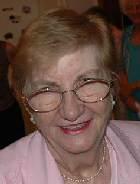 Martha Graham, my mom, may actually start using email!

Mom's email is [email protected]. Please send her a message saying hello.
I set up a very nice computer in the spare bedroom at 19 Vine. It is sharing the neighbor's wireless (with her permission). She needed internet access for a money making scheme that involves being paid to shop as a Mystery Shopper. I am skeptical, but she is over 21. I will talk to her about what to do and not do on the internet. The daughter of a friend of hers makes a few dollars every month being paid to buy stuff.
I did a search on ShopUntilYouDrop and other mystery shopper sites. They certainly seem like scams to me.
There is an online questionnaires that will help you determine if an opportunity is a scam. I suggest that you click on the link above take it before responding to any of these positions.
.