Last night was the third anniversary of the Geoff Hartwell Jam in Pleasantville, NY. I never go to this jam because it costs $5 to get in and I am a cheap bastard. The email that Geoff sent me, though, included a line:
We have NEVER cancelled due to weather because the die hards ALWAYS come out (Like Fabulous Phil Chadeayne!!! "Is this jam goin on or WHAT?" LOL…
Phil was my boss for nearly 14 years and we went to Blues Week in Elkins, West Virginia together and played together at the Tap House Jam many times. Phil plays guitar and I play harmonica. I don't get to see Phil that much any more so I had to show up.
I have been doing a little work on Geoff's web page, so I brought Erica's fancy camera and took some shots. The Blues Jam photos can be viewed here.
Here are some sample pics:
Some Jammer's. That's Geoff's sister singing. I believe that's Patrick Nielsen Hayden on guitar on the right.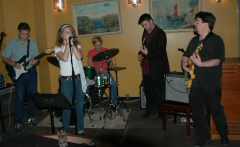 I snapped a picture of the Harmonica Enclave.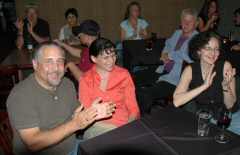 An here is the "Fabulous Phil Chadeayne!"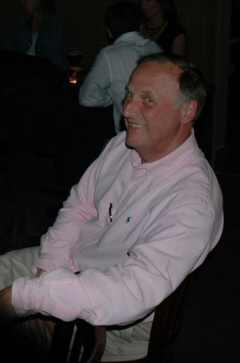 I used Macromedia Fireworks to throw together a little gallery of the night's 38 images at the link above. I also have the very large 6meg images on CD.