I bought a tiny video camera and video recorder. My goal is to take clips of blues jams and acts for my website. I was testing it out and, of course, Gracie was my first subject. My father worked with a photographer during WWII. He was stationed in various places, but one of his jobs was to develop film when he was stationed at an airbase in Germany. He said 90% of all the pictures he developed for the other soldiers was of their pets. Give someone a camera and all they wanted to do was take pictures of their dogs.
I took pictures of cat, so I show a little better taste.
The camera is a Eujoy 2 MegaPixel 6-in-1 Digital Still/Vid/MP3/Web Cam/Voice from Geeks.com. If you watch for the geek specials you can get it for $44.95. It records voice (music comes out just so-so) You can play MP3 files like an iPod. You can take decent quality pictures and web quality video. I bought a 256meg secure data memory card so I can record about an hour of audio and 45 minutes of video.
Click on the picture of Gracie to see her video debut. I compressed the video somewhat to speed up downloads, so it is marginal quality. The original was a little better.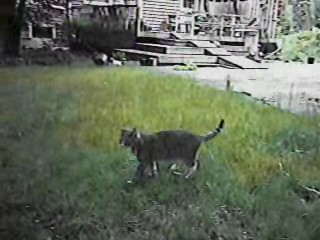 Almost all kittens are born in Spring. By convention, at out house, all kittens celebrate Mother's Day as their birthday. Gracie is now about a year old.