My sister-in-law, Justine gave me a laptop computer. I is a Gateway m520mx with a huge screen and 60 gig drive and 512 meg ram and a dvd burner and built in wifi and a place to put my flash memory from the camera. I am connected to the internet now through a neighbors wifi connection! Top speed and free!
It snowed about 18 inches over night and I spent the day shovelling out the cars. Tonight is "Hot Tuna" with Yorma and Jack doing an accoustic and an Electric set. It looks like a good weekend. For those of you who don't know, Hot Tuna is Jefferson Airplane without Grace Slick. They do old blues and rags mostly when they are accoustic and then some killer electric rock and blues.
Since I can load the pictures directly to the laptop from the card, here a couple of cute cat pictures.
Here's Princess Gracie (notice how her bad eye doesn't react to flash):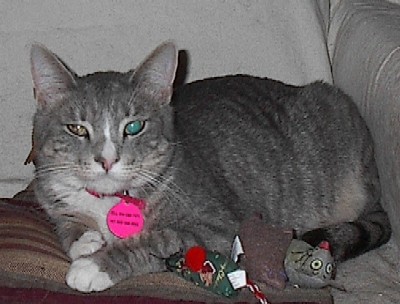 Here she is killing one of my shirts: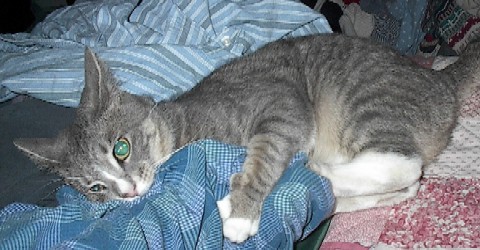 And here are Gracie and Ollie watching "Video Catnip" on a snow day.